Diana Morningstar
For almost 40 years she's been serving the world as a community organizer, artist, expressive arts facilitator, and traveler and after 20 years of welcoming the world in her home in the Morningstar House near Nashville, she's returned to Summertown to be near family there, and to open a home for guests there. She has a passion for community building across lines of race, class, and culture and has done work on the boards and staff of many church and community non-profit organizations, locally, regionally and internationally.
She's the oldest grandchild in a large farm family in Southern Tennessee and learned the fine art of hospitality from her ancestors, especially warm-hearted grandmothers and great-grandmothers. There was a great synergy and sustainability in the collective, cooperative work of her large family, and in the years in the "city" she brought this ethic and value to life in community here.
After 10 years of leadership in the forms of InterPlay, she designed MorningStar Community Arts, linking arts and social transformation, writing, and performing. Writing poetry all along the journey she is publishing an extensive collection with a title something like: Radical Hospitality: Grief, Grace and Grits. She loved the cultural discoveries of traveling to places like Morocco, Hawaii, Australia, Malawi, Ireland, and this summer Greece with her daughter and 3 grandchildren, now 18, and 15. They were born in the "red house" next door, and now live in East Nashville.
There was so much to learn and enjoy in hosting house concerts, circle gatherings, and potlucks in the Morningstar House in this longtime practice of hosting friends and family, sharing stories, friendship, and a web of connections that spans the globe.
Creative homestays with hosts that were sometimes friends, and sometimes friends of friends, are her favorite way to travel- way before Airbnb came along! It's such a sweet way to come to know a city by having a safe, friendly, homey landing place. So that's what she offered, before the guest houses turned into extended stay homes during the pandemic. The spirit of hospitality comes naturally and easy to her, with a family who used to say that she "never met a stranger." All the world are really just family we haven't met yet.
The playroom in the Morningstar House holds about 40 people, and there could come a time for more community arts there! Music, circles, social justice circles, poetry, expressive arts workshops, story-telling, or dance!
Marquetta and Chanda are the two beautiful humans who are "home" making now in these houses. We enjoy good people in all their variety and we will be dreaming up and designing events to carry on the creative spark! So here's to the new life chapters!
Life motto: "Sometimes you just have to take a leap and build your wings on the way down"..
Contact: DianaMorningstar@gmail.com
Marquetta Dupree 
Marquetta Dupree is the Owner of MD Wellness in Atlanta, GA offering holistic health services for the body, mind and spirit. She is currently the Programs Associate for The Intercultural Leadership Institute and liaison to the membership services team of Alternate ROOTS. Marquetta is deeply rooted in a spiritual background of ministering through ones art.
She is a first-degree Reiki healer, singer and sound healer, Mother to one son, and ceremonial facilitator. With a background in West African dance, a Bachelors of Science degree in Sports Medicine, and 6 years of military service gives way to Marquetta's passion for fitness, dance and love of kinesiology. This allows her to offer a wide range of skills and services to her clients and class participants. Marquetta is a certified group fitness instructor by ACE and AFAA and puts continuing education at the forefront of her business.
In all the work Marquetta does, her goal is to facilitate healthy community and connection. This last summer she became the owner of the "Red House" in Hermitage and is hosting a house full of women guests and creating HOME. Her mother Adora Dupree was the amazing community artist who inspired us all in this whole way of working/playing in the world. Contact: marquettadupreewellness@gmail.com
Chanda Tyler Freeman
Chanda Tyler Freeman is a native of the city of Jackson, which is nestled between Nashville and Memphis, in rural West Tn. Her passion for social and economic justice began at an early when she testified at the state capitol with other youth with the Tennessee Hunger Campaign following in the footsteps of her mother Mary Tyler
Chanda is a graduate of Union University, Jackson, TN. She is Master Level Social Worker and a highly sought-after community development planner and strategic consultant. Chanda has over 20 years of experience working with national, state, and local faith and community-based organizations.
Chanda continues to follow her passion for community and social justice, she is the founder of the West TN Rosenwald Historical School Project. She is also a founding member of the West TN Minority Contractors Association, Community Youth Builders Community Development Corporation and JumpIn Inc and many other groups focused on transformational change. When not working she enjoys reading, creative writing, and spending time with her daughter and is currently living in Nashville. She's at home now in the Morningstar House, the "blue house" and doing great work at the Tennessee Justice Center. Contact her at ChandaFreeman@outlook.com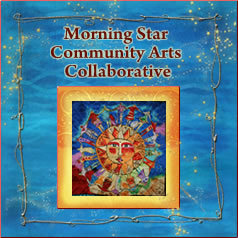 Here's the link to contribute to Morningstar Community Arts circles or to pay for your homestay.  Click on "Pay Now" here and choose either the PayPal or credit card link and please use the "friends and family" option to save fees. Venmo at @Diane-Ault is possible as well.  
You will receive an instant receipt. Thank you!