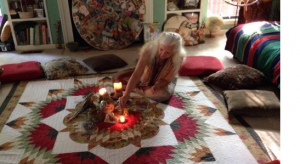 Morningstar Community Arts Collaborative is a mutual support network for community artists with opportunities for collaborating, creating and producing performances, workshops, retreats, and various healing arts activities in Tennessee and beyond since 2007, and now includes a circle of people offering the service of sharing rooms in their homes as a creative option for affordable housing.
Poetry, music, singing, movement and stillness are some of the modalities we use when we gather in circles for cross-cultural community development. We invite you to come together with 4-6 other creative folk in your area or on zoom and share the work of your heart.
Diana Morningstar provides long term "home" spaces in Hermitage, TN, at the Morningstar House, The Heron House in Summertown, and duplexes in Lawrenceburg, TN.
She is part of a network called the "Heart of Tennessee Home-Sharing Network", a wide circle of folks sharing rooms in their homes across middle TN.
Join us if you have a bedroom or more to open in your home to share with guests, and want the support of other hosts for collaborative support in offering this form of affordable co- housing.
As a grassroots web of artists, activists, and creative change-makers, we invite you to connect with us and to support the ongoing work/play as soulforce for community transformation.
Currently offering weekly zoom gatherings, and linking various creative people with each other across the world in special projects.
Join our new beginnings in 2023.
Send an email to Diana Morningstar dianamorningstar@gmail.com to be added to the circle.