Morningstar Guest Houses have fully furnished private rooms available for folks who to come for extended stays in Nashville area for 30 days or more – for work, travel nurses, students, creative folk, and people in transition.
All utilities, WiFi, and supplies, w/d, kitchen provided for an easy comfortable extended stay, 3-6 months preferred. Lots of quiet and privacy as well as an opportunity to participate in a nice friendly community vibe. It's an affordable way to live close into town in a settled neighborhood.

Diana and her daughter owned these 2 houses by the lake since 2000, 10 miles east of downtown, and have shared rooms there with guests from all over the world, and hosted house concerts and hundreds of circles. They are transitioning to ownership by daughters of two of Diana's beloved friends/ mentors, Marquetta and Chanda. These two talented young women will tend the homes, build community, and continue to provide safe, peaceful and affordable "home" to many in the coming years, as well as host creative community circles.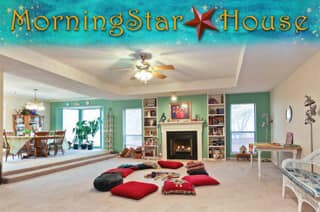 Here's the link to contribute to Morningstar Community Arts circles or to pay for your homestay. Click on "Pay Now" here and choose either the PayPal or credit card link and please use the "friends and family" option to save fees) Also pmt through Venmo at @Diane-Ault is possible as well. You will receive an instant receipt. Thank you!
PayPal – The safer, easier way to pay online! Thank you!